Meet the Back In Time Dress
Dresses have always been my favorite pieces in my closet -- for about a year when I was small, they were the *only* thing I would wear! -- so I'm thrilled to introduce this timeless and flirty knit dress. The worsted weight yarn makes this a quick knit, even with the length of the skirt! I knit the whole thing start to finish over Spring Break.
The name leans into the timeless silhouette while also hinting at a fun bop from a certain pop superstar's vault tracks. 
This dress is both comfortable enough to pair with a pair of sneakers and a denim jacket for a day of running errands and classy enough to pair with heels for the office -- or even to wear as a wedding guest!
The Back In Time Dress is knit seamlessly in the round from the top down. German Short Rows are used at the back neck for an improved fit through the torso. Decreases are worked through the body for waist shaping, then all stitches are bound off at the natural waist. These stitches are picked back up for the skirt, increasing through the hips until the desired skirt length. Finally, increases are worked for the ruffled hem. All edges are cast on and bound off with i-cord edging for a clean look.
This pattern has been designed with modifications in mind. Directions are written into the pattern for instructions on how to work the pattern without the waist shaping, or as a comfy tee instead of a dress. I know that not all bodies are shaped the same, and instructions for further modifications to fit your size and shape are all included!
This dress has 0-2" [0-5 cm] of negative ease in the bust, with a detailed schematic in the product listings for help choosing your perfect fit.
Size Chart:
XS: 28-30" [71-76 cm] bust
S: 32-34" [81-86 cm] bust
M: 36-38" [91-97 cm] bust
L: 40-42" [102-107 cm] bust
XL: 44-46" [112-117 cm] bust
2XL: 48-50" [122-127 cm] bust
3XL: 52-54" [132-137 cm] bust
4XL: 56-58" [142-147 cm] bust
5XL: 60-62" [152-157 cm] bust

This pattern has been tested in sizes XS-2XL (28-50" [71-127 cm] bust). If you have a bust size of 52-62" [132-157 cm] and you are interested in testing this pattern, please send me an email at notyourgrandmasknits@outlook.com.

I used Loops & Threads Crème Cotton in Pastel Pink for my full length dress sample and We Are Knitters The Baby Alpaca in Grey for my t-shirt sample. When choosing a yarn, look for a yarn that is not too heavy, and be sure to block your swatch so you know how your finished product will react to wash and wear!
For the full length dress:
 You will need 3 (3, 4, 4, 4)(
5, 5, 5, 6
) balls of Loops & Threads Crème Cotton or approximately 765 (873, 981, 1089, 1197)(
1324, 1421, 1521, 1628
) yds [700 (799, 898, 996, 1095)(
1211, 1300, 1391, 1489
) m] of another worsted or aran weight yarn.
For the T-Shirt length modification:
 You will need 2 (2, 2, 2, 2)(
3, 3, 3, 3
) balls of Loops & Threads Crème Cotton or approximately 383 (419, 478, 524, 581)(
662, 731, 784, 845
) yds [351 (384, 438, 480, 532)(
606, 669, 717, 773
) m] of another worsted or aran weight yarn.
The nylon in Crème Cotton seems to help the dress hold its shape. It has help up brilliantly, even with regular wearing and washing! I love the color palette of this yarn, and it's not overly harsh on the hands while working up. 
My baby alpaca sample is like a
cloud
! The halo is so fuzzy and dreamy and so fun to work with. 
Keep in mind that if you use a fiber like 100% cotton or alpaca for the full length dress, you may want to reinforce your waistline with sewing elastic! This will help the stitches retain their shape, as cotton and alpaca fibers love to grow.
This is an intermediate knit, but there are plenty of linked video tutorials to guide you through the process!
You'll need to know how to: cast on with the i-cord cast on method, knit German short rows, knit in the round, increase (make 1), decrease (K2tog and SSK), bind off, pick up stitches, bind off using the i-cord bind off
5 stitch markers (1 in a different color or style for the beginning of round), scissors, stitch holders or scrap yarn, tapestry needle, measuring tape
Size US 9/5.5 mm* 20-36" [50-90 cm] circular needles, and needles for your preferred method of small circumference knitting
*or any needle size to obtain gauge

For small circumference knitting, I like using 9-10" circular needles, but magic loop or DPNs will work just as well!
As always, my test knitters did an amazing job with their projects! This group of test knitters outdid themselves with their beautiful yarn choices, their thorough and detailed notes, and their patience as I figured out when I could publish this design. The design process truly would not be possible without this lovely group of ladies!
Check out their amazing Back In Time Dresses and Tees, then scroll to see the yardage and yarn substitutes they used.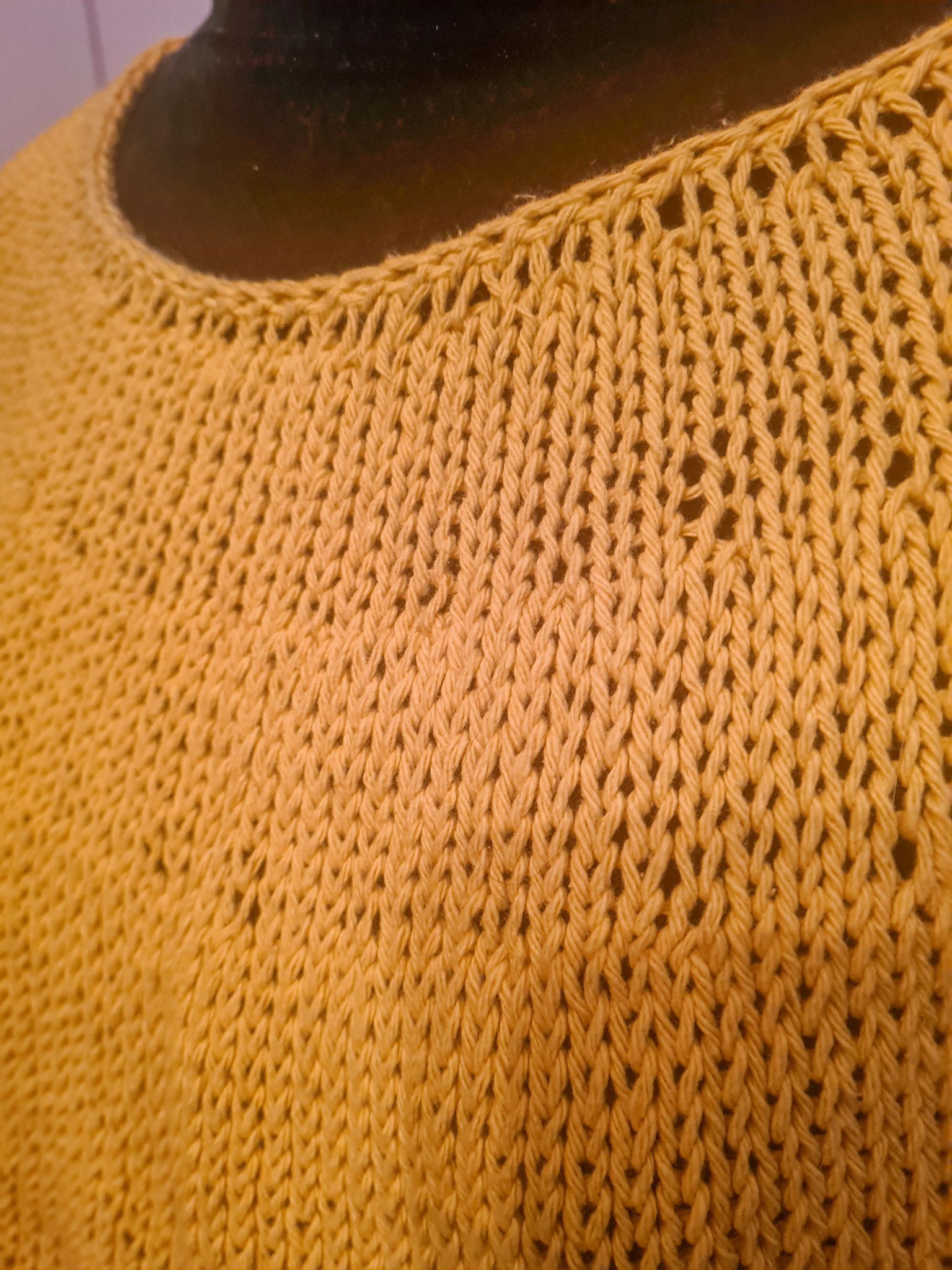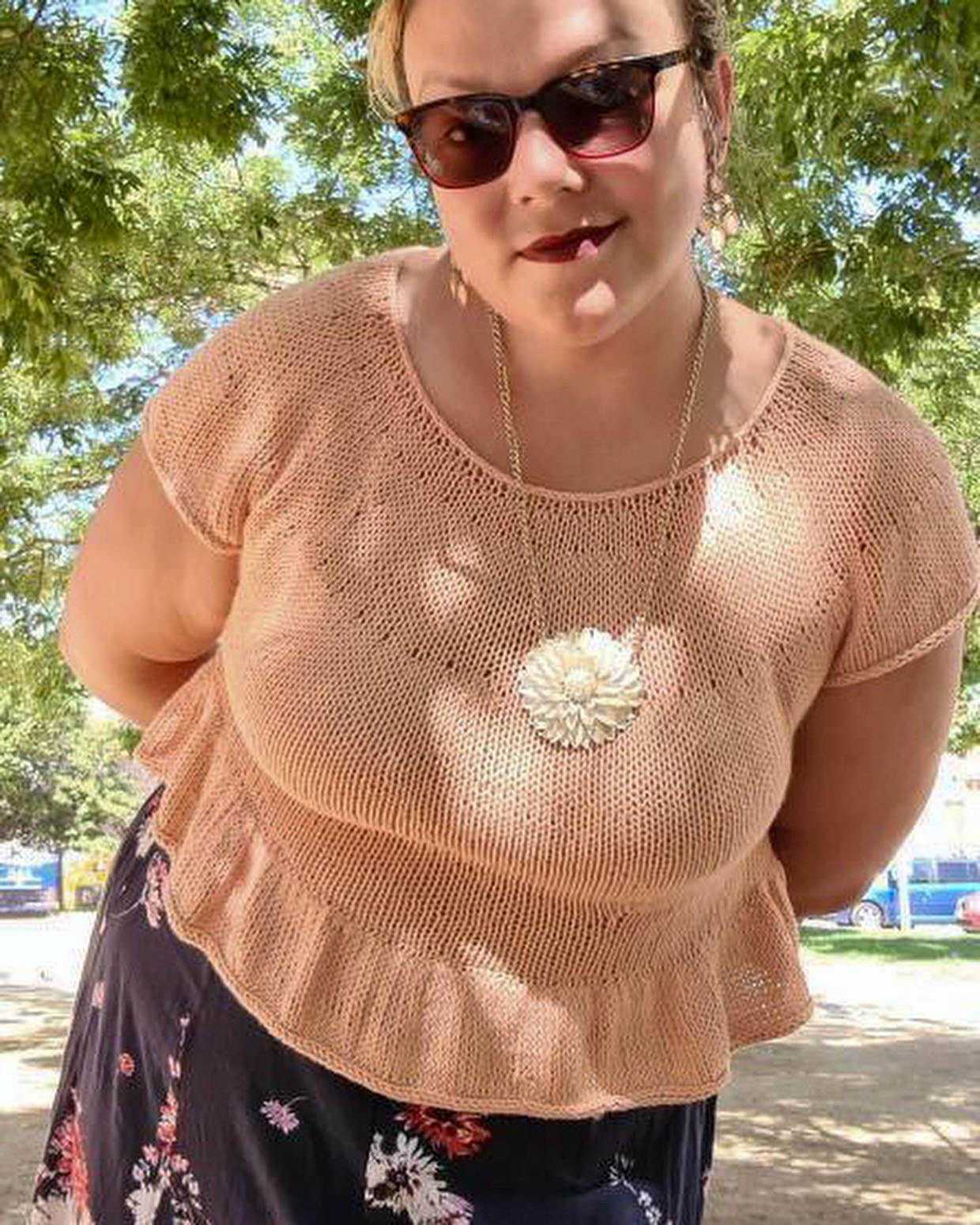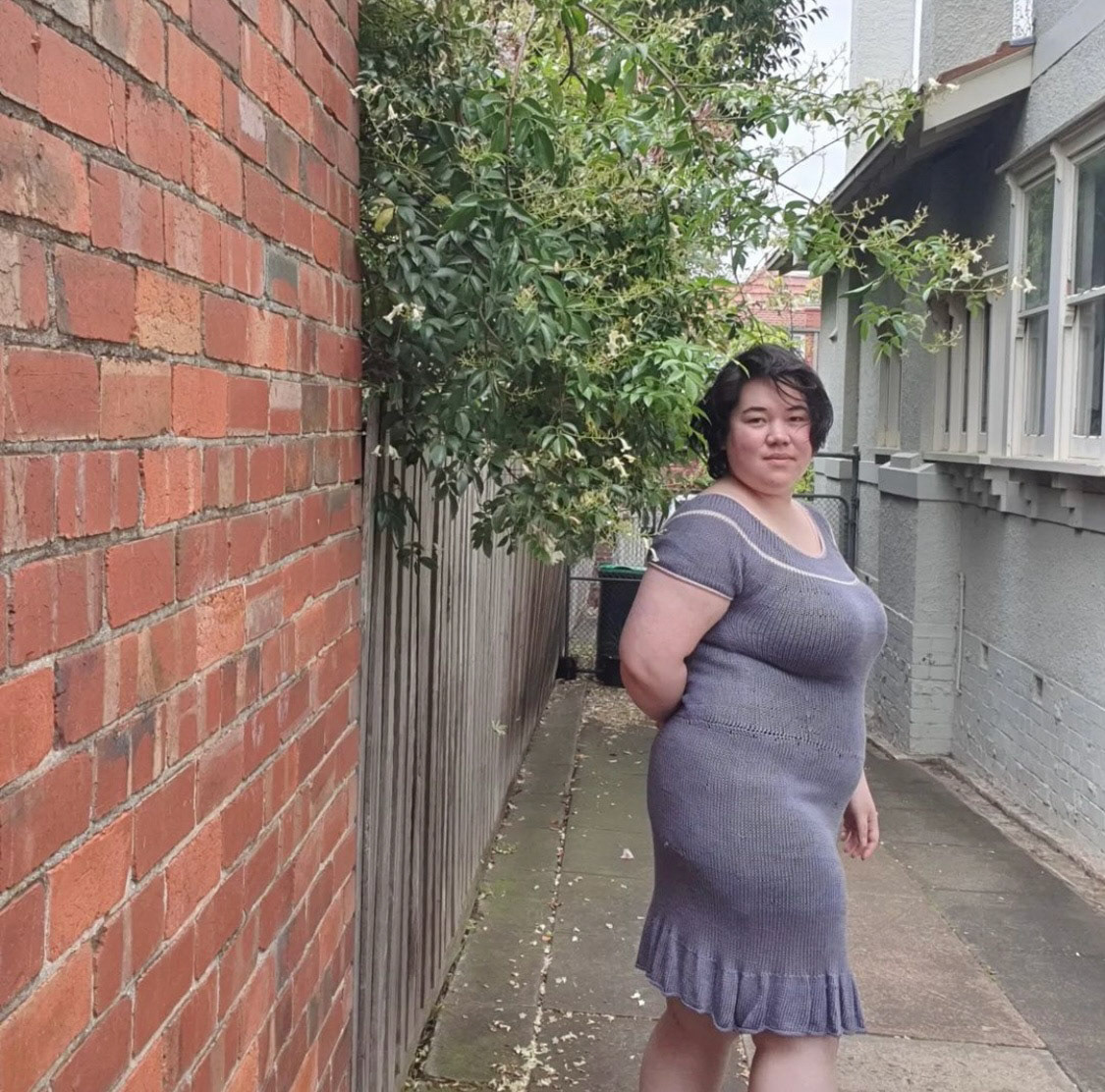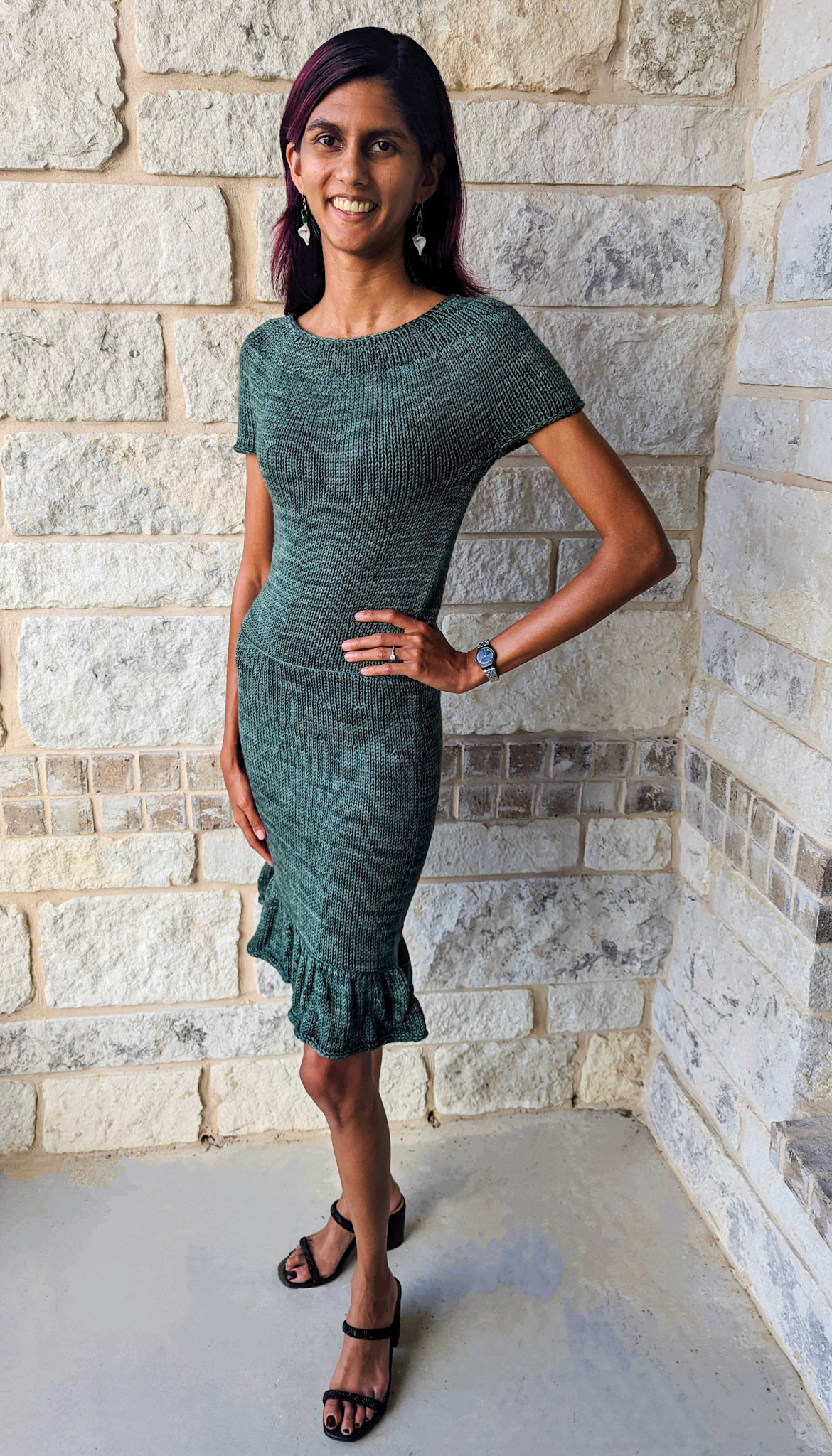 XS: 500-787 yards [457-720 meters]
S: 700-776 yards [640-706 meters]
M: 928-1043 yards [849-954 meters]
L: 904 yards [827 meters]
XL: 942 yards [861 meters]

Tester Yardage - Tee Modification
XS: 380 yards [347 meters]
S: 427 yards [390 meters]
M: 541 yards [495 meters]
L: 568 yards [519 meters]
XL: 545 yards [498 meters]
2XL: 620-654 yards [567-598 meters]
*Note: Some test knitters made modifications to the length of their Back In Time Dresses and Tees, altering the average yardage shown here. The yardage listed in the pattern is for the pattern as written. If you plan on adding additional length, you may need more yarn!

Paintbox Yarn
Recycled
Cotton Aran
Sunshine Queen Fiber Arts 
Worsted
Willow Yarns
Daily Worsted
We Are Knitters
The Pima Cotton

Loops & Threads 
Crème Cotton
Caron 
Cotton Angel Cakes

Lion Brand
Nuboo

Yuyoye 
Anti-Pilling Acrylic 

Sewrella Yarn 
Classic Worsted

Lily
Sugar 'n Cream

Premier
Cotton Batik

Rauma Garn 
Sumatra

We Are Knitters 
The Baby Alpaca

Lion Brand
24/7 Cotton